Company Information
Company plan
Never give up all your determination!
Challenge

Do everything with a spirit of inquiry.

Individuality

Value yourself as you are while keeping your dreams and adventurous spirit.

Trust

Build your personality so that people may allow you to take charge of business activities and leave their dreams with you.

Dedication

Everything happens for a reason. Start with something.

Dignity

Become who you really are with layers of experience.

Sincerity

Think fairly and understand the feelings of others.

Discipline

Observe compliance while taking a conciliatory stance.

Smile

Seek to put a smile on all people's faces.
As of the end of February 2018
Company name
Takayama Co. Ltd.
Head office address
11-1 Ogaku Azahikage, Izumi-ku, Sendai-shi, Miyagi 981-3216, Japan
Logistics warehouse : 11-1 Ogaku Azahikage, Izumi-ku, Sendai-shi, Miyagi 981-3216, Japan
TEL 022-342-9886 FAX 022-342-9885

Access
Capital
7 million yen
CEO
Yoshitomo Takayama
Business contents
Production, import sales of charcoal · Sales of store fixtures, consumables
Sale of nursing care facilities / medical institution hygiene products and sanitation support
Logistics company
Sagawa Express Co.,Ltd. / Yamato Transport Co., Ltd. / Fukuyama Transporting Co.,Ltd. / Daiichi Freight System Inc.
Bank
77 Bank Ltd. / Shoko Chukin Bank / Morinomiyako Shinkin Bank / Sennnan Shinkin Bank / Miyagi Daiichi Shinkin Bank/td>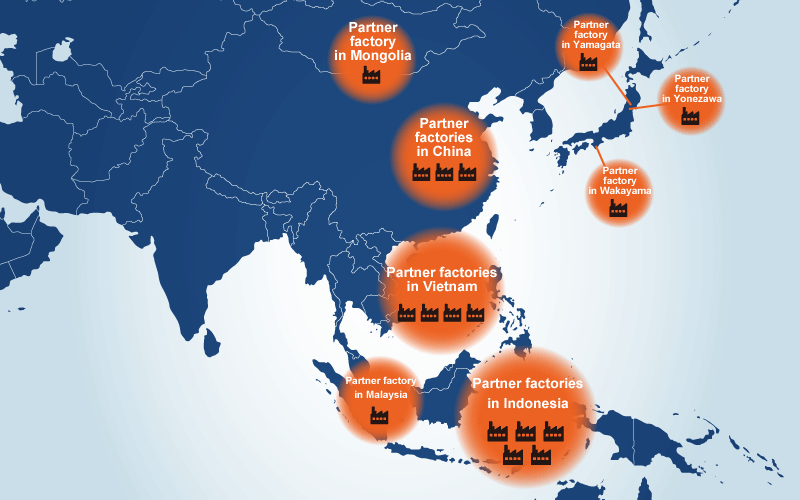 Domestic affiliated factory(3), Partner factories in Indonesia (5), Partner factories in Vietnam (4), Partner factories in China (3), Partner factory in Malaysia (1), Partner factory in Mongolia (1), Partner producers of charcoal in Japan (3)
■ Domestic partner coal wholesaler
Sapporo, Yamagata, Saitama, Tokyo, Ibaraki, Toyama, Kanazawa, Nagoya, Osaka, Hakata, Okinawa from each area is available